Washington Family Veterinary Clinic Team

Meet Our Veterinary Team
At Washington Family Veterinary Clinic, our mission is to deliver exceptional care, from nose to tail for every patient, every time. Learn more about our amazing team and why we love what we do so much. To learn more about a team member, just click on their photo!
About Dr. King
Dr. Jace King, DVM
Veterinarian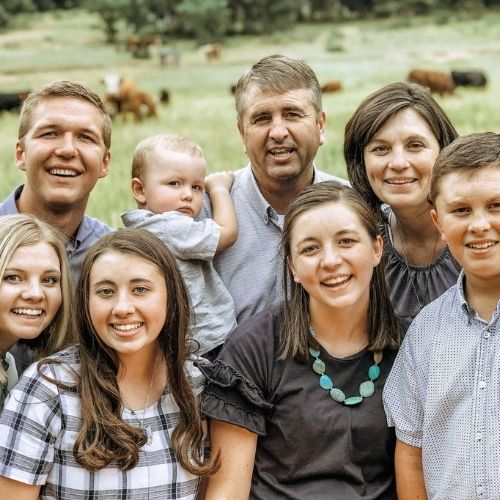 About Dr. Barton
About Dr. Johnson

About Whitney
Whitney, CVT
Practice Manager
About Tenille
Tenille
Client Service Representative
About Sara
Sara
Client Service Representative
About Nichole
Nichole
Client Service Representative
About Melissa
Melissa
Client Service Representative
About Kailor
About Bailie
Bailie
Veterinary Technician
About Stephanie
About Ashliy
About Emma
About Frankie
Frankie
Veterinary Technician
About Brynzee
Brynzee
Veterinary Technician
About Hannah
Hannah
Veterinary Technician
About Makaylee
About Hali
Dr. Jace King, DVM
Veterinarian

Dr. Jace King was born and raised in South Central Utah in the small town of Monroe. He grew up on and spent most of his time working at the family livestock auction and cattle ranch. His interest and desire for veterinary medicine started at a young age while working with and tending to all the different animals.
Following high school, he attended Southern Utah University, majoring in biology with a zoology emphasis. He was then accepted into the Veterinary Medicine Program at Colorado State University, where he graduated in May 2006. Upon graduation, he moved to the St. George area to begin his career as a veterinarian.
His veterinary interests include oncology, chemotherapy, internal medicine, client education/communication, bovine medicine, and orthopedic surgery.
Some of his hobbies include playing and coaching sports, snowboarding, wakeboarding, boating, camping, riding horses, working with cattle, and just relaxing with his family.
Dr. Clayton Barton, DVM
Veterinarian

Dr. Clayton Barton grew up in a rural town in Southern Utah. Growing up in Orderville, Utah gave Dr. Barton the opportunity to have and be around many animals. He acquired a love for animals at a young age. That's when he decided he wanted to be a veterinarian. After high school, Dr. Barton attended Southern Utah University, majoring in zoology with a minor in chemistry.
In 1998, he was accepted into the Veterinary Training Program at Mississippi State University, College of Veterinary Medicine and graduated in 2002. Following graduation, he was an associate veterinarian at a small animal clinic in Boulder City, Nevada.
Dr. Barton and his family moved to Lehi, Utah in 2003, where he worked at a renowned Equine Clinic in South Jordan, Utah.
Working at these two clinics has given him the knowledge and skills that he uses in his practice of medicine today. Dr. Barton and his wife are from Southern Utah, and they felt a need to be closer to family. They are glad to be back in Southern Utah. Dr. Barton and his wife, Calie, are the proud parents of four children. He is excited to partner with Dr. Jace King. Both have a great desire to provide their clients and patients with the best quality care.
Dr. Brenda Johnson, DVM
Veterinarian

Born and raised in Southern Utah, Dr. Johnson grew up in Santa Clara and graduated from Dixie High School. During her youth, her family raised sheep, cattle, cats, and dogs which inspired her to become a veterinarian at a young age. She attended Weber State University's undergraduate program and graduated with a Bachelor's in Zoology with Minor's in both chemistry and botany. From there, she was accepted into Colorado State University's veterinary program and graduated with her DVM in 1997. She continued to practice in Ft. Collins until 2014 when she relocated back to her hometown to be closer to family.
 
Her interests include internal medicine, the human/animal bond, end-of-life care, acupuncture, nutrition, and herbal medicine. She shares her home with her husband, 3 children, 2 dogs, and 3 cats. They also have 6 chickens and 2 horses. She loves spending time with her family and their many critters. When she is not practicing veterinary medicine, you can find her hiking, boating, reading, skiing (water or snow), and running.
Whitney, CVT
Certified Veterinary Technician / Practice Manager

I was raised here in sunny Southern Utah and developed a love for animals and medicine from the moment I got my first pet. Veterinary medicine has always been and will always be a passion of mine. I love the challenges and rewards the field brings. I also enjoy building relationships with clients and their pets to ensure they get the best care possible to be able to live their best life.
I enjoy spending my free time with my husband, Daniel; daughter, Amelia; and our two dogs, Nova and Dally. You can bet we are always out enjoying everything the area has to offer: hiking, fishing, camping, wildlife watching, and hunting, among many others.
Kailor
Veterinary Technician

Hi, I'm Kailor King. I was raised here in St George. I served a mission for The Church of Jesus Christ of Latter Day Saints in Nebraska after high school. Currently, I go to school at Dixie State, working toward being a vet and working part-time here at the vet clinic. I enjoy working with animals, both large and small!
Stephanie
Veterinary Technician

Hi, I'm Stephanie! My family and I just recently moved back to St. George from Fort Worth, Texas with my 2 daughters; Hana and Emi and husband; Doug. I also have 2 cats, Simon and Bill who both were rescues through previous jobs. I have been in the veterinary field since I was 16 years old and love what I do every day. You can find me most days either in the surgery room or performing dental cleanings! I look forward to meeting you and your fur babies in our clinic!
Frankie
Veterinary Technician

Hi, I'm Frankie. I am from Wyoming but I am glad life has brought me to St. George to work at Washington Family Vet. I graduated from Dixie State University and I am continuing my education at Penn Foster. Some things I like to do are travel, hike, play sports, and spend quality time with family and friends. I love all types of animals and I can not wait to help you and your furry friends!
Hannah
Veterinary Technician

My name is Hannah Clem from Las Vegas, Nevada. I graduated from Sierra Vista High School in 2017 and will be graduating December 2021 with my bachelors in biology, with an emphasis in biological sciences from Dixie State University. I am very passionate about helping animals and hope to pursue that passion as I apply to veterinary school. I love this job and every moment I get to learn something new with the best team I know!
Melissa
Client Service Representative

Hi, I'm Melissa! I was born in San Jose, California, raised in Sandpoint, Idaho and now I'm currently living in St. George, Utah. My love and passion for animals started when I was a little girl when I got my first pet, a kitten, that I named Amy. Ever since then, I've always wanted to work with animals, and I am very grateful to work with such an amazing team here at WFVC! I graduated at Dixie State University, and I'm now currently pursuing more education at Penn Foster to further my skills in becoming a better Veterinary Technician.
Tenille
Customer Service Representative

Tenille has worked as a technician for WFVC for four and a half years. She enjoys spending her free time with her son Remington and riding horses. Her passion for animal aid developed in college after she rescued her first horse. Since then, she has made it a goal to provide the best care for her animals and the patients she sees at the clinic.
Bailie
Veterinary Technician

Hi, I'm Bailie! I was born and raised in Central Utah and recently moved to Southern Utah. I've been around animals my whole life and developed a passion for helping them. I love being outdoors in my free time. I look forward to helping you and your furry friends!
Missy
Veterinary Assistant

Hali
Veterinary Assistant

Ashliy
Veterinary Technician

I just moved here from Georgia and have been a technician for 7 years and love every second of it. I have two dogs, an English Bulldog (Chief) and a Presa Canario (Zoey). I also have a cat named Izzy. My favorite parts of veterinary medicine is client education and snuggling chunky puppies!
Emma
Veterinary Technician

Brynzee
Veterinary Technician

Hi, I'm Brynzee! I was raised in St. George and I just recently graduated from Crimson Cliffs High school! I have loved animals since I was a little girl and realized how much more I love helping them! If I'm not working at the clinic I'm usually anywhere with dirt:) I love riding horses, camping, fishing and hunting and everything in between! I am so excited to meet you and your cute pets!
Makaylee
Veterinary Assistant

McKaylee has been an animal lover from a very young age. She grew up caring for a variety of animals including dogs, ducks, chickens, turkeys, pigeons, lizards, and even pet rats. She enjoys being active in anything outdoors or at the gym, but also loves to stay in and watch a good movie cozied up with her dogs. She loves her job here at WFV and we can guarantee she will be loving up on your cute furry friends in the back.
Sara
Customer Service Representative

Hi, I'm Sara. I grew up in Hurricane, where I also chose to raise my family. I enjoy spending time with my kids, and grandkids. I have always had a soft spot for animals, and feel very fortunate to be able to work with all your wonderful fur babies.
Nichole
Customer Service Representative

Hi, I'm Nichole! I was born in Quito, Ecuador and moved to Columbus, Ohio (Go Bucks!) When I was 5 years old with my mom and younger sister, I moved to Hurricane Utah three years ago where I'm currently living with my boyfriend and 5 animals (2 dogs, 3 cats, and a bunny). I've loved animals for as long as I can remember. As a kid, I used to sneak into our fridge and steal all the eggs and go hide them outside to save the chickens! Working with animals is truly my passion, and I love going into work every day and having the opportunity to help them live better, healthier lives.