Washington Family Vet Clinic
Serving St. George, UT and surrounding areas.
We offer personalized veterinary care for the pets of St. George, UT and beyond.
Carrie L.
Reviewed via Google
"I've been to three vets since living here in Hurricane and this place is by FAR the BEST!!! My dog had severe dry eye and was in pain. I highly recommend this place!!"
Krista W.
Reviewed via Google
"We love Washington Family Vet! They are welcoming and flexible – always available to answer questions and so loving with our furbabies!"
Seth K.
Reviewed via Google
"Good people, good service, local vet always appreciated. With this town so busy, nice to see people who care and are always here to help."
Veterinary Services
Exams, surgery, dentistry, and more.
Our Mobile App
Book appointments, get reminders, and more.
Online Pharmacy
Food, medication, and more with free delivery.
Welcome to Washington Family Veterinary Clinic

Our 4,000-square-foot facility has six examination rooms, a large surgery suite, a spacious waiting area, EKG, digital radiography, blood pressure, and oxygen monitoring. We also have an in-house blood machine and pharmacy.
Please learn about our latest policy changes here.
Due to the increase of Pet-to-Vet Ratio and the continued obstacle of appropriate staffing across the Veterinary Industry, our office will now require the following
Effective September 5, 2022
:
$100 Deposit for Surgery & Dental Appointments
$100 Deposit if you have missed 3 appointments or rescheduled twice
$ 75 Deposit to Establish as a new client
The Deposit will go towards all services rendered at your scheduled visit. HOWEVER, If you miss your appointment entirely with no prior notice of at least 5 hours, the deposit amount will be forfeited and is non-refundable.
PLEASE ALERT OUR OFFICE VIA TEXT, CALL OR EMAIL as soon as possible if you cannot keep your scheduled appointment. Veterinary Appointments are very valuable and in an effort to provide care as best we can, we feel this policy will create accountability in keeping our schedule up to date to see patients.
Unfortunately, there may come a time when we are unable to accommodate your request for an appointment in the time frame requested. Please understand we may already be double booked, experiencing a staff shortage or both. If we take on too many cases in a day, that leaves less focus on each individual patient. We strive our best to treat each patient as our own and want to give them our full attention.
We appreciate your kindness and patience as we maneuver through this towards the common goal of Quality Care, Nose to Tail.
Thank you.
We treat your pet like family.

At Washington Family Veterinary Clinic we offer a wide variety of services and technology to keep your companion pet happy and healthy, including routine and orthopedic surgeries, specialized vaccinations, prevention and treatment, laser therapy, dental hygiene, nutrition, cryotherapy, and wellness exams.
We work hard to make our hospital feel like home.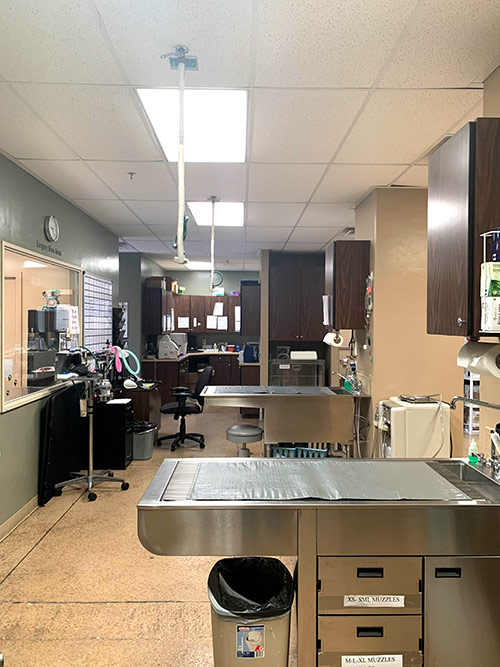 Get to know the Washington Family Veterinary Clinic family.
Thank you for your kind words!

We know you have a lot of options when it comes to choosing your veterinarian, and we thank you for making us one of the highest-rated veterinarians in St. George and beyond.
"This place is amazing. Just moved to town and found them close by. They worked our dog in for an emergency and took excellent care of her. So thankful."
Denise M.
"We are new to St. George and had a great first experience here! The front desk staff, techs, and doctor were so friendly and helpful. The doctor and his tech let me ask a million questions and didn't rush us. They took the time to be very thorough which I really appreciated!"
Mary P.
"This place is amazing from the front desk to the docs…they have been so good with us and our dogs. Very caring people."
Penny H.
"Great vet office! They have a team of several veterinarians and techs who are always super friendly and knowledgeable. Their office is nice and clean. Their website allows you to schedule appointments, which is super convenient! Their prices are very fair, and definitely not the most expensive in town!"
Katie L.
October Specials & Events